The Building Blocks to Highly Effective Email Marketing
With seemingly gazillions of emails being sent every day and spam filter technology making it increasingly difficult to get through, it would be easy to think email marketing has had its day. However, the communication medium still has so much to offer that it should most definitely feature in any well-rounded marketing plan. But there's good email marketing and bad email marketing, and whereas 10 years ago you could get away with the bad, you simply can't today.
So, here's our 5 tips for email marketing at your golf club: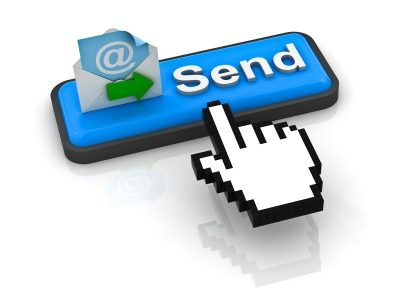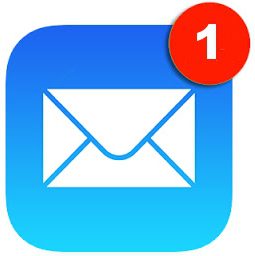 Before we can even begin to think about email marketing, we have to have some email addresses in the first place. That means implementing a strong data capture system that harvests as many prospect and customer email addresses as possible.
Data capture is a huge subject with lots of best practices that can be employed to grow your databases, so we're not going to go into it all here. However, there are some basic things that can be done straightaway:
Set up a system in your golf shop or reception that requires all visitors who play golf to complete a registration card that asks them for their email address. Some won't do it, but most will if your staff ask them (in the right way).
Always ask for contact information from inbound telephone enquiries, and make sure you add them to your email database. In our experience, these are the ones that often get missed.
Ensure you website is harvesting contact data in a way that allows it to be added to your email database – on an automated basis or manually at least.
If you're serious about email marketing, you have to get serious about data capture, and we would strongly suggest NOT going down the business card drop or "enter our prize draw if you give us your email address" route. These voluntary systems are old hat and, in our experience, are pretty ineffective.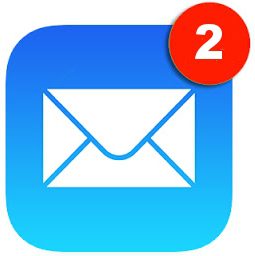 Choose your email marketing platform
Whilst Outlook and Apple Mail are lovely email clients, they're NOT email marketing platforms - they're for every day email sending and receiving. Don't be tempted to use them for bulk email campaigns just because they're free. It could jeopardise and hinder your email account. Plus, you can't add an automated 'opt-out' functionality and you can't see who's opened or clicked on your emails. That's all useful info for later.
There are loads of platforms out there, all offering similar degrees of functionality. The main two we'd suggest looking at are MailChimp and SendinBlue. Both offer a free level of subscription, up to a point. At the time of writing this little piece, SendinBlue's free account allows up to 300 emails to be sent per day. MailChimp restricts their free account to up to 2,000 email contacts. However, both are a good starting point if you're just starting out with the email marketing malarkey.
At some point (hopefully very quickly) you will outgrow these free subscriptions levels and you'll have to cough up some dosh every month – but don't be tempted as this point to revert back to Outlook or Apple Mail. It really won't break anyone's bank. MailChimp's first paid-for subscription level is just $9.99 per month. SendinBlue's is £15.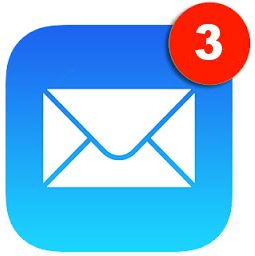 Create an email template that's "on-brand"
Create an email template that you'll use for ALL of your email marketing campaigns. This doesn't have to be complicated, but it does have to be "on brand". This means it has to have some similarities in the way it looks to your other marketing output, and the most obvious guide here is your website.
Email marketing and your website work closely together. It stands to reason – people will receive your emails, click on links within them and then be taken to your site, so the two need to work in unison.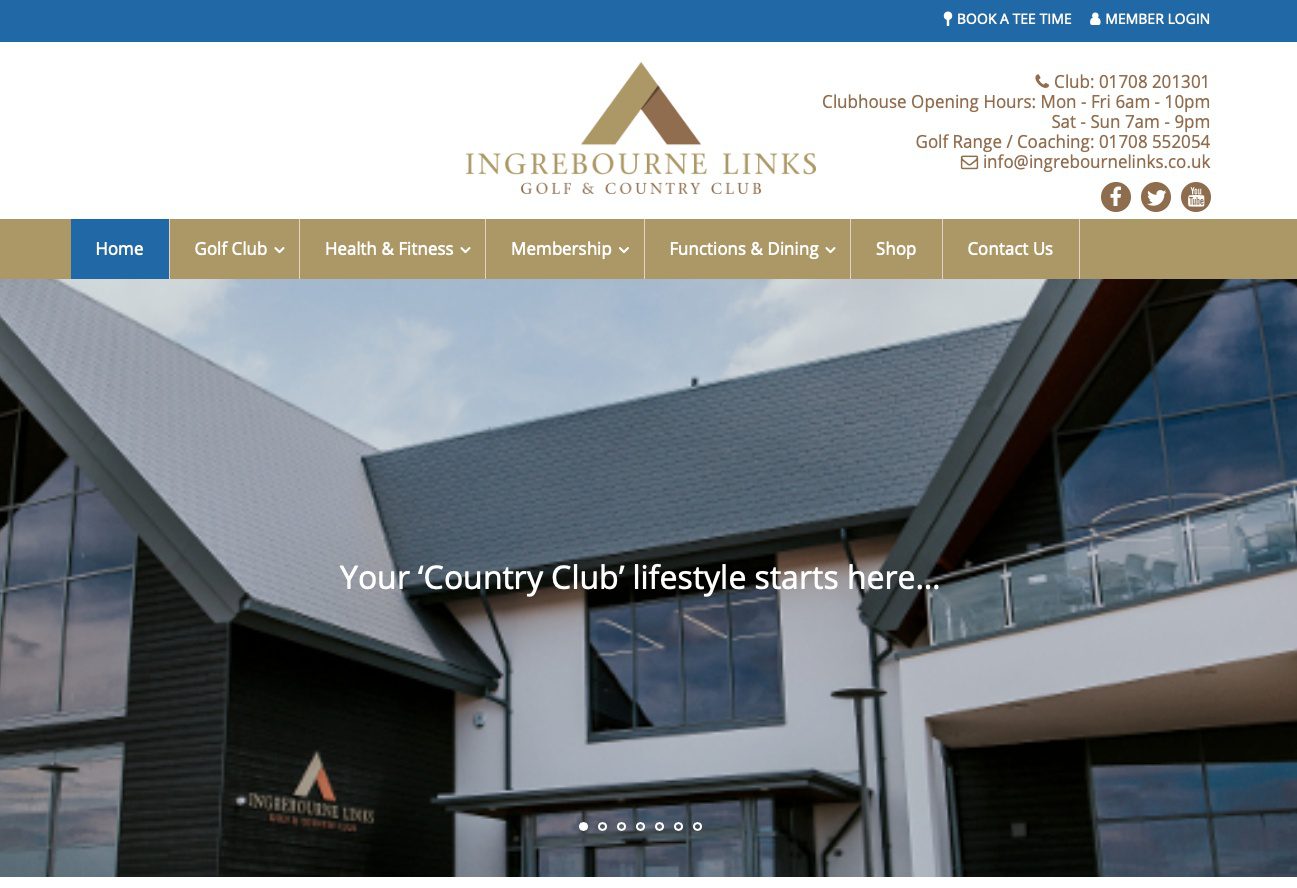 Check out the header section of this golf club's website…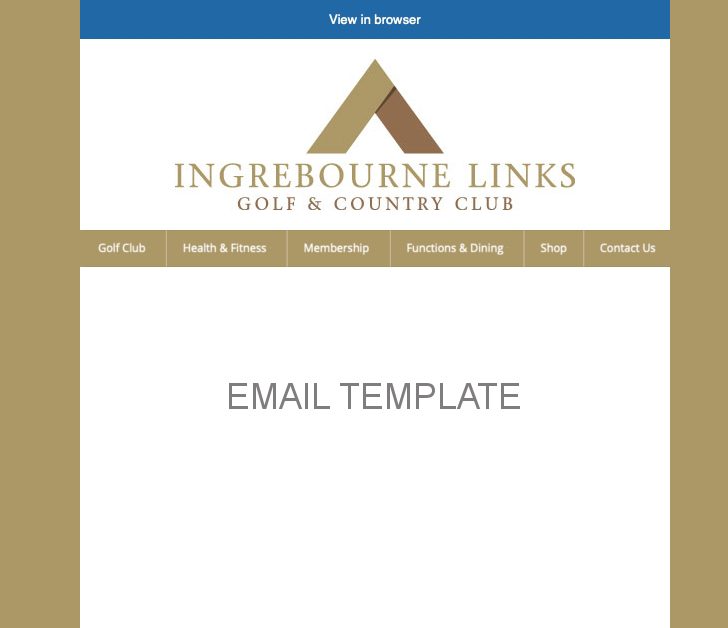 …and how they've used the styling and colour scheme within their email template.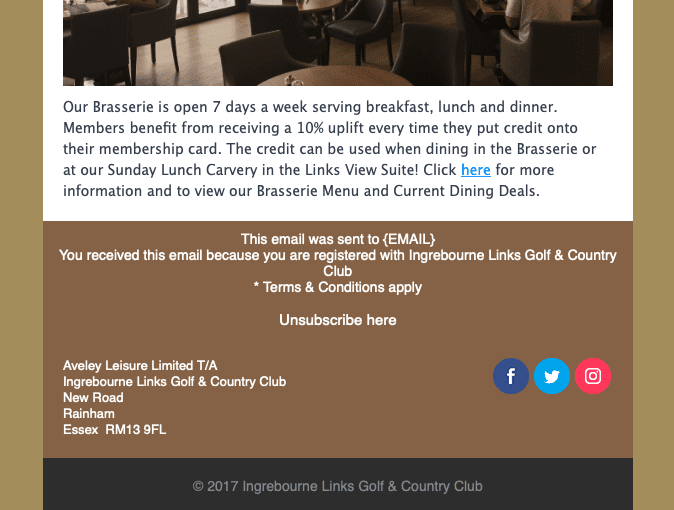 And for the footer, note they've put their address. That's actually a requirement by law. Plus the "Unsubscribe" link – which you can't miss because both SendinBlue and MailChimp demand that you have it.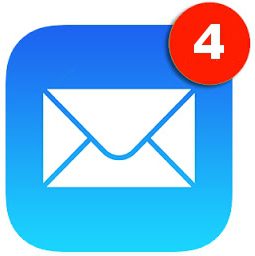 Sounds dangerous, but it's a fantastic way of segmenting your data over time.
"Click bait" is the use of links within your email that take clickers to the other products and services your club offers.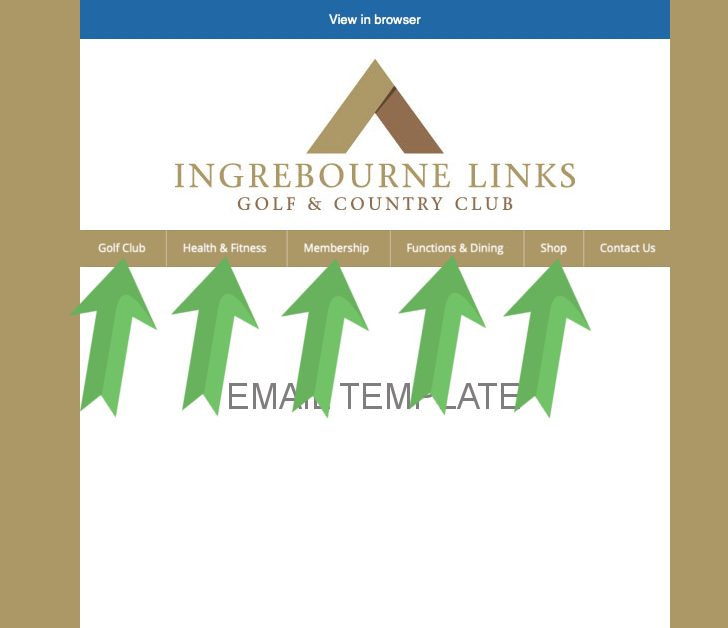 Back to our example, this club use click-bait in the header. If a user clicks on "Golf Club", they'll be taken to the club's web page that talks about golf. If they click "Health & Fitness", they'll be taken to that page, and so on.
So what's the good of all that then?
Well, whilst you may send an email about your latest membership offer to your database, that doesn't mean your database may not be interested in other products and services that your club offers aside from membership. By giving them the opportunity to learn about these other products and services by clicking on a link, you're discovering who's interested in what.
So, next time you do an email that pushes functions & dining, for instance, using your super-dooper email marketing platform you can send it to people who've clicked on the "Functions & Dining" link within all your previous emails.
The benefit is that it's much more targeted to people likely to be interested in functions & dining.
So why can't I just blitz everyone in the database – if they're not interested, they'll just not respond to the email?
Well yes, you can send it to everyone, but if they're not interested in what you're sending they'll soon opt-out of receiving any emails from you at all – even if they are interested in another product or service.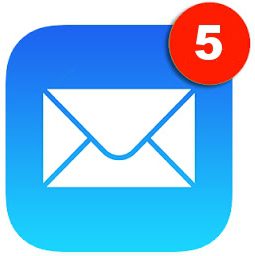 Sometimes, the hardest decision is choosing NOT to do something rather than WHEN. And you can go majorly OTT with email marketing. It's just enthusiasm and ambition for your golf club, we understand, but bombarding people with lots of emails in a short period of time will only increase the number of opt-outs – and then you'll never get another opportunity to send them any email about anything whatsoever.
Of course, there are loads of other best practices and tips that will help with your email marketing, but these are a good starter for ten.
Despite the rise in the volume of emails being sent, it's still a hugely valuable communication method now being read on mobile devices and watches, as well as laptops and desktop computers. It's well worth exploring if you don't already, and also worth reviewing your practices if you're already on-board with email marketing.
Promote Golf specialises in supporting golf clubs, driving ranges and off-course golf entertainment venues to achieve their commercial business objectives. Our team of industry experts have over 70 years experience and have worked with over 200 golf businesses. It's this first-hand experience of commercial golf management that sets us apart - we've been at the sharp end; on the floor; at the coal face. We understand the conflicting pressures that Managers and Directors have to contend with.
Working alongside our sister companies at Promote Marketing, Promote Training and Promote Leisure, Promote Golf specialises in marketing support and business consultancy, in addition to offering a wide variety of training workshops designed for all levels of employee.
Get in touch with us today to learn how we can raise your golf business to new heights.