Your Most Perishable Product
A tee time is the most perishable product a golf club sells. That's because you can't stop time. As the clock ticks, the tee time comes closer and closer until it's gone forever, and you'll never get a second chance to sell it.
In this regard, tee times are very similar to hotel rooms or airline seats. When the night has been and gone, or the aeroplane is trundling down the runway, there's nothing you can do to further 'monetise' that hotel room or flight.
This calls for a very careful management of a golf club's tee time inventory in order to maximise usage and yield. And it's equally relevant for both 'pay and play' courses and private-member clubs.
Promote Golf work with clubs to create a quantitative measurement system that allows the Manager to identify the strengths and weaknesses of their courses occupancy. This can then guide both pricing and promotional strategies as well as staff training needs.
Let quantitative evidence guide your pricing and promotional decision making.
Promote Golf's bespoke reporting system allows Managers to monitor multiple Key Performance Indicators within their tee sheet, including:
Tee Time Utilisation
Tee Time Occupancy
Player Occupancy
Revenue per Available Round
Tee Sheet Yield
No-Shows & Short-Shows
Booking Window Analysis
By effective training of golf shop and reception staff, Promote Golf assist the club in implementing tee time strategies that increase utilisation and occupancy efficiency, including:
Callback reserve lists
Silent tee times
Pairing-up
Weatherproofing
Under-booking
4-ball only times
Stand-by lists
Multiple tee starts
Got the T-Shirt - Read the Book!
The Directors at Promote Golf, Matthew Orwin and David Reeves, are long-time advocates of effective tee time management from their days as Golf Club Managers. So much so, they've even written a book on the subject!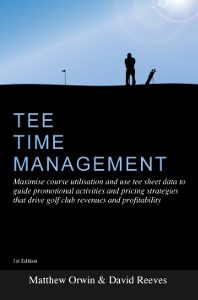 Maximise course utilisation and use tee sheet data to guide promotional activities and pricing strategies that drive golf club revenues and profitability.
Isn't it high time you thought about tee times?
Get in touch...